Yes, even something as everyday as transit makes it into the movies. Here's a few times where transit has been part of a plot line:
Warning: contains spoilers.

Planes, Trains and Automobiles (1987)
This classic film starring Steve Martin and John Candy shows everything that can go wrong with transportation. Obnoxious people. Canceled planes. Strange taxis. Bad hotels. But what that gets Steve Martin's character back home for Thanksgiving without any problems? Yep, the
Chicago L.
Even in the winter weather that sets back the characters throughout the movie, the world famous elevated trains that symbolize Chicago run right on schedule. See a clip below of the ending, which takes place at the
LaSalle/Van Buren stop.
But how he can get back to the same station so quickly? Because he's in
The Loop.
Overall, a pretty good endorsement of "trains" here.
Speed (1994)
One of the most used cliches in describing a movie is saying "Movie x did for activity y
what Psycho did for showers
!" But I think it's safe to say that about
Speed
and mass transit. In one movie, a terrorist targets elevators (which may be the most ridden form of mass transit,) buses, subways, and planes. And all in Los Angeles, a city
notorious for bad transportation
. This movie probably didn't help, but it is a great nonstop thriller. And hey, imagine how quickly you'd get to work if your bus couldn't drop below 50!
Who Framed Roger Rabbit (1988)
Who needs a car in L.A.? We've got the best public transportation system in the world.
So says Eddie Valiant, private investigator in Los Angeles in 1947. He tries to stop the evil Judge Doom, who wants to destroy Toontown. Why? To make room for a freeway. You heard that right.
Who Framed Roger Rabbit
isn't about cartoons, murder, or the golden age of Hollywood. It's a dramatization of the
Great American Streetcar Scandal
, in which General Motors bought up streetcar systems to replace them with buses. Judge Doom buys up the beloved
Red Car
trolley system only to dismantle it, and Los Angeles residents are forced to drive everywhere. Sound familiar?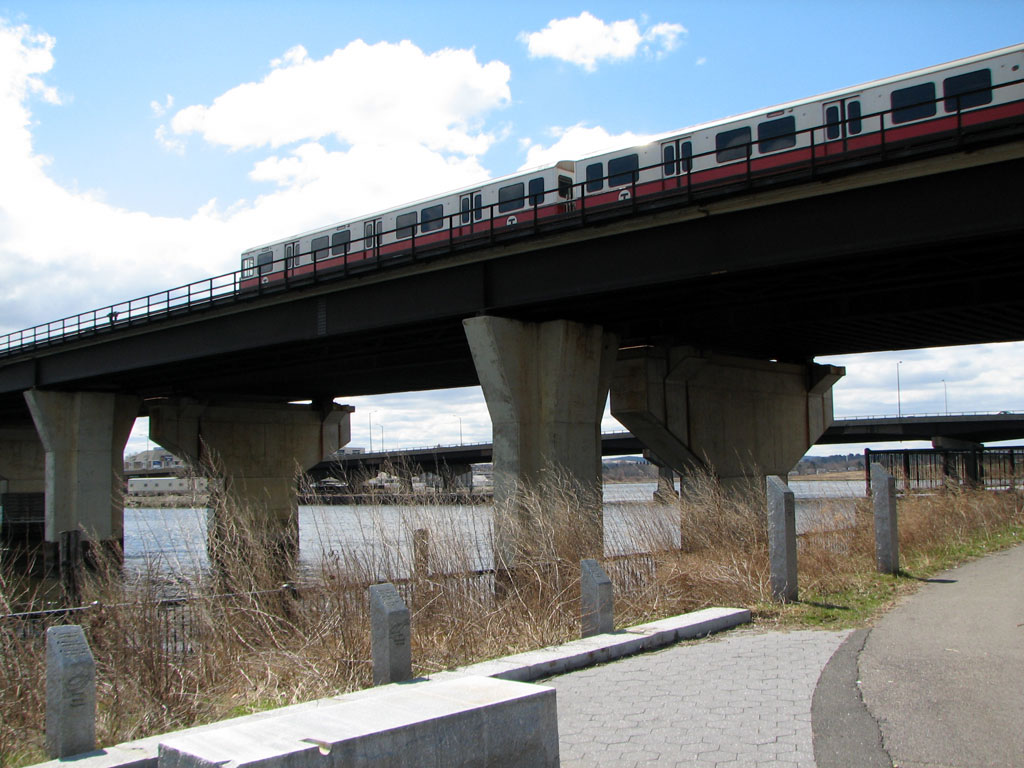 Good Will Hunting (1997)
This might just be me. But I think
Good Will Hunting
brilliantly uses transit to tell the story of Will Hunting, a genius from the wrong end of the Boston
Red Line
. In the film the Red Line, through a few beautiful scenes with the music of
Elliott Smith
, symbolically and physically connects the rough
South Boston
with the prestige of
MIT
and
Harvard
. If it wasn't for the Red Line trains, could Will have secretly displayed his amazing mathematical talents to an MIT math professor? Could he have met Skylar, a smart and beautiful Harvard student? I'd like to think no.
But the gift at the end of the film to Will from his buddies? A car. Oh well.
Stranger than Fiction (2006)
This little gem of a film features a rare dramatic turn for comedian Will Ferrell. Transit is everywhere in this movie where Harold, a lonely tax agent, finds out he is the protagonist in a novelist's unfinished book. One day, he starts hearing the narrator and finds out he will soon die. His life then starts changing for the better, including this great scene on a bus where he talks to Ana, a free-spirited baker who he is auditing.
Notice how the discussion is made more awkward by his sitting in the middle of an
articulated bus
(that seems to be going nowhere... it keeps making left turns. Commentary on Harold perhaps?) A later scene has Harold reading the book about himself on a very long bus ride (that even takes him to the garage and bus wash.) And not to mention the ending... Filmed in Chicago, though the transit system is referred to as the MTA rather than the
CTA
. Is Chicago the only city where white collar workers take transit? According to Hollywood, yes.
Sliding Doors (1998)
Unlike driving or walking, taking mass transit makes a whole lot of "what if" moments. The bus, train, or plane is leaving whether you're on it or not. And you wonder sometimes what would have happened if you caught that bus that left as you were getting to the stop. Would you have met someone? Would you have gotten home earlier and seen something you shouldn't have?
Sliding Doors
explores two parallel universes: one where Helen (Gwyneth Paltrow) catches an
Underground
train, and the other where she just misses it.
See the trailer here
. While transit is not the main theme of the film, how it is used to explain two different possible lives is very interesting.
"Seinfeld" (1989-1998)
The television show about nothing is often a show about New York City. And of course, transit makes a few appearances on a show set in the city where
6.5 million people
take the subway every day. The episode entitled "
The Subway
" from the third season has an interesting encounter happen to all four characters as they take the subway to where they need to go. Jerry encounters a naked man, Kramer hears a great horse racing tip, George meets a woman who cons him out of $8, and Elaine is stuck on a broken down car on her way to a lesbian wedding. Just four of the 6.5 million stories on the subway every day. Below you can watch a great behind-the-scenes movie about the show, including the subway car set. The
whole episode appears to be online
, but I imagine that link won't last too long.
There's plenty of other example abound, especially involving the granddaddies of them all: the
New York City Subway
and the
London Underground
. Any other great moments in Hollywood transit?